You know how yoga fanatics some people rock spandex for…umm…looks?
Well it's totally different with runners and athletes – thank God!
They carefully select and test every fabric, gadget and accessory for both form and function. Just like how this Rehband calf compression sleeve review was done.
In fact, when the calf sleeves arrived, the initial plan was to run them (yes, a pun) through a series of outdoor events. These included:
A Tough Mudder-style event
Trail hikes
Long walks on the beach
Routine runs, and
A treadmill – ugh!!!
Okay so maybe number three wasn't in the plan. But if single women can dream, so can I, right?
Anyway, despite the grandiose plan, the Tough Mudder event was the only one that didn't happen.
But that's fine because the other events were more than enough for this calf compression sleeve review.
So, here are my thoughts on the Rehband calf sleeves, 28 days later.
Unbox Therapy For Runners
In today's world, where everyone expects an unboxing experience on the level of iPhones or Macbooks, I just want the product in my hands. And I want it as soon as possible.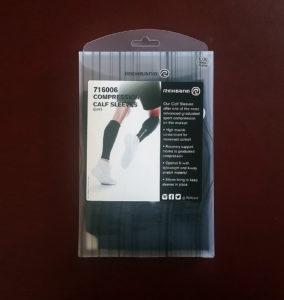 Now I'm not comparing Rehband to Apple, so keep your yoga pants on.
I am, however, very satisfied with their minimalistic approach to packaging.
As you can imagine, compression sleeves for calves aren't exactly a bulky item. So there was only one simple plastic package for me to open.
If you look at the pictures you'll see that the package was transparent with nothing more than the product inside.
It's about the size of a DVD case but thinner.
On the front there's an image and text for the product, while the back is where you'll find sizing details. Very simple.
Opening the package was easy and the sleeves slid right out with ease.
First impressions of the product were good.
The texture of the fabric was soft and smooth especially in the areas that mattered, that is, the stitching. According to Rehband, the material is a combination of Polyamide and Elastane, which also happens to be moisture wicking.
For those in the stone age, it means that your legs won't sweat profusely. That's especially helpful if you're a hairy human. I am, so I was happy.
There's also a silicon lining which is part of that smart Swedish design that helps keep the sleeves in place.
And of course, the most important thing, the sleeves are very lightweight.
As for durability, you can scroll down to read my final thoughts on that. ***Spoiler alert: they don't suck.
Can You Describe The Sizing And Fit?
Of course I can.
To quote the legendary Ace Ventura, these calf sleeves fit "like a glove!"
Putting them on was as easy as putting on these knee sleeves. And I didn't need any baby powder or lube (heh).
Now since we come in all shapes and sizes, what works for one doesn't work for the other.
For instance, the pair of calf sleeves I tested were L/XL. After measuring my tiny calves, those were the recommended size.
I know some brands like Zensah compression sleeves run small or tight or whatever. That may or may not be the case with the Rehbands. The only way you'll know whether they're the right fit for you is to get them and put them on.
Yes, that's a very lame response to a rather pertinent question. And since disappointment isn't a nice feeling, here's my two cents…
The sleeves I used fit great. They offered ample compression, a snug fit, and after a few minutes I forgot I was wearing them.
So if a tighter fit was desired, I would suggest dropping a size. But I wouldn't suggest a bigger size unless it was absolutely necessary. You don't exactly want a loose calf sleeve because that's just a waste of money as it defeats the purpose.
And if you ignore everything you just read, then don't ignore this: measure your damn calves properly and then buy the corresponding calf sleeves.
Rehband has a size chart for a reason. You can check it out here.
94 Miles Of Rage
Based on the stats from my FitBit Charge 2 tracker, I racked up just over 94 miles with the Rehbands.
Not exactly Forrest Gump-esque but enough for this calf compression sleeve review.
Most of those miles came from the hikes and routine runs. The treadmill miles came as part of a weekly gym routine.
Now I'm not going to tell you that I noticed a dramatic increase in my recovery or run time within the first 24 hours of using the sleeves. That would be poo-poori.
The only thing that happened on the very first day was that my legs were dry after the exercise.
And I don't know if it's part of the fabric or an added benefit but while I was running my legs felt cool against the wind.
Think Icy-Hot effect. Only in this case the heat was on all the time because…summer.
So that was a great feeling to have and the only big takeaway from day one.
I suspect it will have the reverse effect during the cold season as well. That means they'll be great for staying warm and dry during those winter runs.
As for the other benefits of wearing the calf sleeves, those didn't come until later.
In fact, it wasn't until Day 6 that I felt a noticeable difference from wearing the calf sleeves.
You know the feeling you get in your legs after an exhausting run or killer leg workout?
That subtle throbbing sensation in your veins and muscles (aka DOMS) as your body tries to calm down from the healthy stress it just endured.
Well the effect was a lot less prevalent compared to the norm.
And this my friend is where an understanding of the benefits of compression wear comes into play.
You see, instead of having to worry about your calf muscles and joints becoming stiff, you can wear a pair of calf sleeves to reduce that effect.
This was particularly helpful on the hikes and routine runs rather than the treadmill. Perhaps it has something to do with the constant change in the terrain, which you can't experience on a treadmill.
Although, if you mixed things up on the treadmill by tossing in some inclines and cardio burn settings, you'd probably feel differently with the sleeves on.
Durability
After 28 days of exercising in the sleeves, I have zero issues with durability.
Yes, that may change in the future but so far the calf sleeves haven't let me down.
Plants, the weather and water have all tried to compromise the integrity of these sleeves. Especially plants on trails…damn those twigs and branches.
But, the Rehband sleeves protected my legs and I just ran through the bush like a modern day Tarzan.
They've also been put in the wash twice. Not because they smell, but because of dirt and other trail elements.
The machine didn't ruin them either. The lettering wasn't destroyed and the sleeves fit just as snug as when they were first worn.
So as I said before, the durability doesn't suck and I expect these sleeves to help me rack up a lot more miles comfortably.
More Than Just Recovery And Performance
You probably don't want to skip this part of the calf compression sleeve review.
While a big benefit of compression calf sleeves is the advanced recovery, I'd say comfort and confidence are just as important.
Now before you get on a soap box and start talking about placebo effects, I challenge you to go running in a pair of Chuck Taylors. And when you're done, repeat the same activity in a pair of these ASICS running shoes.
Whatever distance you covered in the Chucks, you'll easily surpass in the ASICS. And your feet won't be suffering in pain either.
Why?
Because one shoe was designed to provide the stability and support for runners and the other wasn't.
That's how it is with the Rehband compression calf sleeves. They give you the edge you need to always give maximum effort. If you use them as regularly as I did, you'll definitely notice a difference in your peak performance.
Think you'll struggle with that 10K? Pssh…you'll bust through that barrier with ease.
Feel like quitting on that last set of squats? Suck it up buttercup and crank that superset.
Kids can't keep up with Mr. Softee? Chase that ice-cream villain down and save the day.
This is the difference between slapping a piece of elastic fabric around your calf and using an actual product designed for advanced recovery and performance.
It's what sets Rehband apart from most brands. There's a reason the crossfit community eats, sleeps and drinks this company's products. That's because it does what it says.
And just in case you didn't know, Rehband is actually considered to be a medical device company that makes apparel for amateurs and professional athletes.
So you know their dedication to sports science means they are as great as Jobst and Sigvaris.
Are These The Best Calf Compression Sleeves For Running?
So you want to know the ultimate verdict on these sleeves.
You want to know if you should go out and buy them so you can enhance your run or recovery.
Look, you're obviously trying to find the best calf compression sleeve to buy. So if words like quality, durability and comfort come to mind when you hear the word best, then give these Rehband calf sleeves a look.
You can pick them up here if you're in North America.
Or get them directly from Rehband's site if you're in Europe.
And, if after reading this Rehband calf compression sleeve review you still can't decide if you should get them, then maybe you should pass on it.
Or you can grab a pair of these.
Also, if it matters to you, Rehband sleeves aren't made in China. They're made in Estonia. If you don't know where that is, let me Google that for you.
Anyway, whatever you decide to buy, just make sure that it's worth it.
Stay fit.