If one person says that something is good, you probably don't budge.
If your friends tell you about something cool you might start to get excited.
But what happens when thousands of people rave about a product?
If you're like us, then you'll probably go from "aha" to "oh sh*t!" in a matter of seconds.
That's what happened when we discovered that customers called the Ironman 4000 inversion table the best inversion table on the market.
Keep reading to learn more about the Ironman 4000 inversion table.
Pros
Folds relatively easy for storage

Durable and provides stability

Comfortable backrest with support

Relief from hours of sitting/standing

Vertebrae discs and ligament relief

Stimulates blood circulation
Cons
Not suitable for small spaces

No video for assembly instructions

Limited functionality for core workouts
Why is it The Best Inversion Table?
Everyone hates dealing with back pain. It sucks and it can ruin a Friday night fun-fest.
If you want to relieve back pain or other ailments, your options are drugs, massage, stretching, or rest.
No one likes drugs and resting makes no sense if you're already in pain.
Stretching can be helpful but it won't always help.
And if you get pains at midnight, the only massage shops open are the ones that can make you 'happy', single, and land you in jail.
None of those sounds exciting right?
Well don't stress, we've got good news…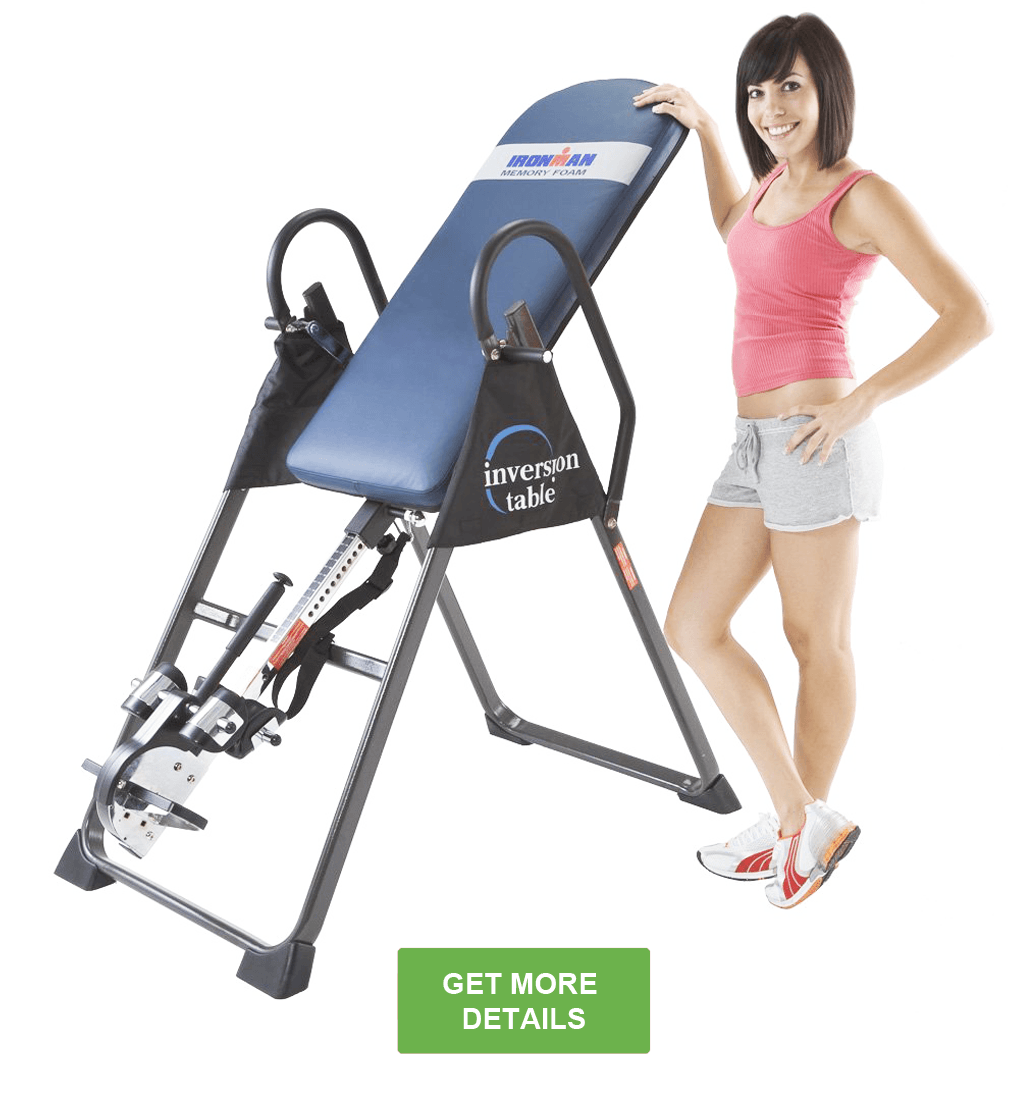 With the Ironman 4000 inversion table, you can avoid all those issues.
It's the best inversion table that has brought relief to thousands of people suffering from herniated discs, headaches, poor blood circulation, neck pain, and back pain.
We had a chance to spend some time with the Ironman 4000 to see what all the fuss was about.
The results were so good that a few team members ended up purchasing their own.
What are the Features and Benefits?
It's very comfortable.
When you lie down on your Ironman 4000 inversion table you'll feel the comfort for yourself.
It has a soft backrest that's made of memory foam and covered with vinyl. But the foam doesn't behave like the memory foam in your mattress. 
The foam in the backrest is 2.5 inches thick and is specifically designed to distribute your bodyweight across the backrest.
So it won't swallow you up like your Tempur Pedic memory foam mattress.
In addition to the thickness, the surface of the backrest is large and well-made. This is mostly due to customers being unhappy with previous Ironman inversion tables.
Eventually, the manufacturer listened and created the Ironman 4000 based on customer feedback (that's customer service!). 
This new inversion table added the following customer-desired features:
Beefed up stitching for long-term durability


Adjustable lumbar support which can also be detached


Longer safety handles with foam padding for comfort and protection


Versatile ankle locking system with cushioned heel holders that prevent pain and discomfort in feet and ankles
It's 99.99% idiot proof.
We'd give it a perfect score but there's always that one person who common sense inexplicably abandoned.
But you can rest assured that the makers of this inversion table took steps to ensure your safety. 
You'll notice that there aren't any close-fitting parts near the common use areas such as the bed or support handles.
In fact, the support handles are there for you to pull yourself up in the unlikely event that something goes wrong.
The support handles (a.k.a. safety bars) are covered in foam and powder-coated like the rest of the frame. 
Some customers must have gotten hurt on older models, which probably made the foam bars more of a necessity rather than a feature.
Anyway, the biggest safety feature for the Ironman 4000 inversion table is the instruction manual. 
Therefore, you should give it a thorough read through because it just might blow your mind with explanations and diagrams.
Unconfirmed sources say that Hulk bought this inversion table because it was called the "Ironman" inversion table.
Apparently he wanted to smash it.
In the end though, he just decided to use it for the Hulk Stretch.
If this inversion table can support the Hulk, it can support your puny body.
No way!
Yes way.
The secret is the strong tubular steel that's capable of withstanding excessive force. Dense rubber stabilizers at each corner give the Ironman 4000 a great surface-to-weight ratio that bolsters the frame. 
The stabilizers also prevent the inversion table from sliding all over the place.
You'll notice that your inversion table weighs about 80lbs. That might not seem like a lot but it can take the weight of a 350-pound person.
Essentially, if you're under 7'0" in height and need to get relief, the Ironman 4000 is the best inversion table for your frame. 
However, if you're over 7'0" then you're SOL and you may need to hire some elves or minions.
How hard is it to assemble?
Harder than the Avengers when they're busy fighting each other!
Assembling this inversion table shouldn't be too hard. The manufacturer includes a helpful guide and some tools to boot (screwdriver & wrench). 
It's pretty straightforward.
Also, you'll probably want to set it up in a big open space away from pets, kids, and drunk people.
NOTE: If the last time you fixed your kitchen sink your roof caved in, then you might want to ask someone for help – physically… and mentally.
This is very important, especially if you live in those "huge" New York City apartments.
Don't worry, this wouldn't be called the best inversion table if it couldn't be stored easily. All you need to do is push the U-shaped frame together to close the table.
Remember it's a bit heavy at 80lbs. So if you're just bracing it against a wall be careful. 
And if you have grand plans to stick it under your bed or in a closet after every use, you should probably think twice about doing that. It's going to be a PITA every time (unless you can curl 80lbs).
Therefore, it's best to just set it up somewhere and only fold it up if necessary. 
And if you do live in a NYC apartment, well… you're screwed. 
But good luck though!
Shipping: 51"L x 29"W x 9"H, wt. 84lbs
Assembled: 49"L x 26"W x 65"H, wt. 78lbs
Folded: 80"H x 26"W x 17"D, wt. 78lbs
How to use The Ironman 4000
Here's a video (courtesy of Paradigm HW) that shows you how to use your Ironman 4000 inversion table
Let's recap the basics.
If you're still debating whether to get the Ironman 4000 inversion table, then hopefully this helps.
The Good
Anytime you are suspended from your ankles alone, you will feel some fatigue.

However, the ankle supports on the Ironman 4000 are designed to cushion ankles. This reduces the level of fatigue in your ankles and feet.


The tubular steel frame and stabilizing rubber grips give you a sense of security and peace of mind. As long as you've followed the setup correctly you won't be sliding all over the place.

Unlike other inversion tables, the large backrest on the Ironman 4000 is sturdy yet comfortable.

It distributes your weight evenly without the sinking feeling of a couch or memory foam mattress.


Customers wanted the Ironman 4000 inversion table to have proper safety handles, so the manufacturer added them.

This makes it easy for you to control your inversion angles if you're unable to balance yourself with your arms.

The bars are also useful for pulling yourself back up when you need to.
The Bad
It sucks that the best inversion table doesn't come with a video tutorial for assembly.

This would be especially helpful for folks who have no idea how a screwdriver works.

Hopefully, in the future they can at least add some kind of video download. If you need a guide, there are some YouTube videos that can help such as this one.


If you want to use this machine for inverted abdominal crunches then it's quite possible.

Unfortunately, you won't be able to select the desired angle because of the lack of a built-in locking mechanism.

This just means that you can only do crunches at one angle – when the table is fully inverted.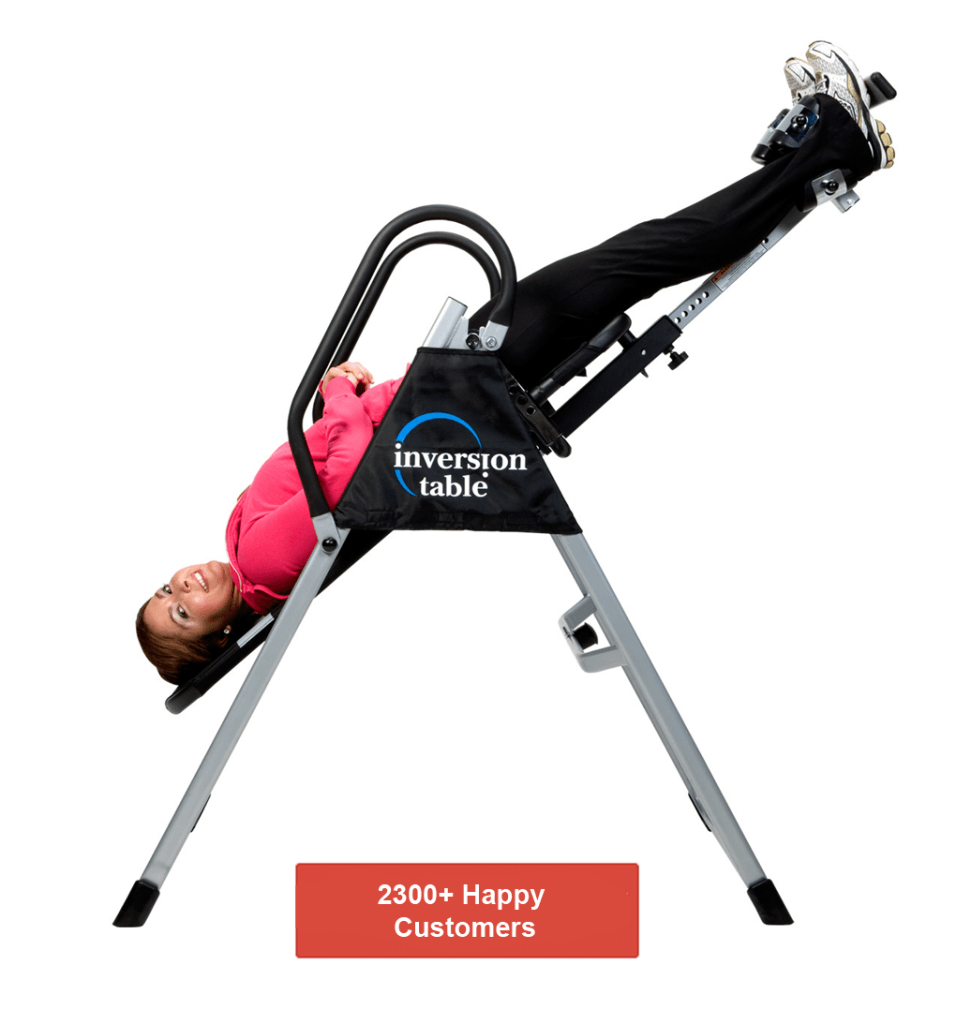 Now that you've gotten the skinny on the best inversion table, there's only one thing left to ask:
Should you get it?
As usual, we don't like to tell you how to spend your money.
However, if you're like many folks seeking relief from neck pain, back pain, herniated discs, etc., then you should consider this inversion table.
The Ironman 4000 inversion table was created for a specific reason and it was built based on customer input. So you can basically say that your peers designed it.
If you compare the price to other high-end tables, you'll also see that you're getting a steal of a deal. It's like you're getting a Mercedes Benz for the price of an Acura.
And finally… 2300+ people can't be wrong, right?
If that's not enough to convince you that this is the best inversion table then we don't know what is.
Sure there are other tables available, and you'd be smart to check those out too.
Just make sure you find one that does exactly what you want it to do.