Bracoo is a lesser known brand of leg sleeves currently on the market. Despite being an unknown, there seems to be quite a lot of users who find the company's products to be useful.
The Bracoo compression leg sleeves are made from neoprene and have a rating of 15-20 mmHg.
The type of material is important here because some people cannot wear neoprene for long or even short periods of time because it causes an allergic reaction to their skin. Throw in the fact that they're only available in two sizes (medium and large) and they need to be hand-washed, its easy to see why the overall rating here on Compression Point is appropriate.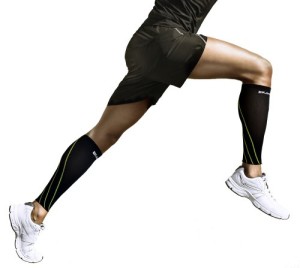 There seems to be a trend of smaller companies to offer their products in one or two sizes, Bracoo is one of them. As mentioned above, they come in only two sizes. The medium size fits calves with a 10-14.5″ circumference, and the large accommodates 14.5-18.5″ calves.
Unfortunately, the whole "one size fits all" sales pitch doesn't quite cut it when it comes to compression sleeves or socks.
Why?
Well, can you imagine being either an obese person or someone with huge calves struggling to fit into those limited sizes?
Of course not.
Compression would become constriction. This is one of the main reasons why there needs to be multiple options available. Thankfully the bigger companies like Zensah, Sigvaris and CEP Compression offer multiple sizes.
Now before you think that this entire review is focused on telling you why you shouldn't consider purchasing Bracoo sleeves, let's consider who their ideal customer should be.
Their products would be ideal for individuals with small to just over average calves (12-14″ for females and 13-15″ for males) who are looking for moderate compression sleeves.
Remember, when you measure your calves, you want to focus on the part that is most thickest.
However, if you are taller or looking for varying degrees of compression then you are better off skipping this brand for another one.
Overall, most of their customers seem pleased with their purchases.
By no means are their products of poor quality. They're just limited.
You can rest assured that at least the sleeves will function as intended.
These Bracoo compression leg sleeves consist of breathable material and moderate compression that would be helpful for a casual wearer.
If you are a fitness enthusiast, these might be best suited for less intense activities such as walking or slower runs. These compression leg sleeves also come in two colors: black with white accents or black with yellow accents.
You won't find an independent website for the Bracoo brand, although their parent company is Comfy Life, Inc. As a result, finding out about warranties and customer service proved to be a challenge.
Therefore, if you want to give the Bracoo's a try, consider purchasing them here so that you won't have to worry about poor customer service in the event that you need to return them.
Just check the company's return policy.