It's safe to say that a large number of people spend the majority of their days seated behind a desk.
For that reason alone you might want to get an orthopedic seat cushion for tailbone pain relief.
Think about it…
After you've spent 5-7 hours on a bed, you wake up only to sit down to have breakfast. Then you hop into some form of transportation and commute to your job in a seated position.
Once at your job, you make your way to your desk (cubicle) where you'll continue to sit begrudgingly for the next 8-12 hours.
Of course you'll have some kind of lunch where, yet again, you'll be sitting.
After all of that you'll reverse the cycle at the end of the day: transportation home → couch → dinner table → bed.
That is one freakin' monotonous life cycle!
If you don't think so then you haven't seen this eerie infographic. Check it out to see just how scary this trend is and why it slowly kills your body.
You can also use this cool calculator to get an idea of how much time you spend seated each day.
Don't be too hard on yourself if you spend your entire daily life glued to a chair. You are not alone.
Pros
Memory foam contours to your body

Promotes good seating posture

Provides relief from hours of sitting

Can be used in cars and trucks

Not a hassle to carry around

Removable cover for easy care

Compatible with wheelchairs
Cons
Not effective for overweight people

Doesn't fit well on all surfaces/chairs

Unique shape takes getting used to
Understanding Why Tailbone Pain Causes Discomfort
First of all, you need to know the proper term that refers to your tailbone.
It's called the coccyx (COCK-siks).
Your WHAT is sick!!!?
Relax, this is a PG site, don't get all hot and bothered.
The coccyx is a part of your lower spine that's made up of 3-5 vertebrae. These are small, triangular shaped bones that are often fused together.
Although the word itself sounds a bit lewd, it's actually part of the Greek language. It comes from the Greek word meaning 'cuckoo' because it looks like a bird's beak.
Without getting all scientific and making you wonder like Alice, just know that your pelvic floor muscles work closely with your coccyx. These same muscles are used to support your internal organs.
Meanwhile the coccyx is the primary support for your spine when your body is in a seated position.
You can think of your coccyx as the equivalent of a dog's tail (i.e tailbone).
Naturally, if you injure your tailbone it becomes sore. This soreness or pain in your tailbone is referred to as coccydynia.
Here's a list of possible causes of tailbone pain:
Having an accident where you fall on your tailbone (OUCH!)


Sitting on hard surfaces while maintaining poor posture or sitting for long periods


Getting up from a seated position


Bending/leaning forwards or backwards in a weird way


Lifting something heavy or in an awkward manner


Being overweight


Some random onset of pain with no known cause
What's The Best Solution For Tailbone Pain Relief?
There are a number of ways for you to get tailbone pain relief.
Before you think about using Google to find a solution, stop right there!
You already know from reading another article that lots of websites have questionable suggestions for home remedies.
You should NEVER attempt any of them or even pay for some stupid cream or DVD. That crap will only make your bank account lighter and could potentially harm you.
The first thing you should do is reach out to your doctor or physical therapist.
They will assess your situation and may suggest one of the following treatments for tailbone pain relief:
Medication – your doctor may prescribe you anti-inflammatory meds for dealing with tailbone injuries.


Cold Therapy – you might be told to apply an ice pack to the sore region for a few minutes a day. Of course, this would depend on the severity of your tailbone injury.


Exercise & Stretches – your PT should be able to hook you up with some kind of exercise routine to address your specific tailbone injury.


Get On Up (or sit down) – you should get up and stretch your legs or walk around for a bit while at work. If you sit for long periods, you are doing your body no favors. After all, which is worse, having a debilitating injury or being fired? (BTW no one is advocating rebellious behavior… unless you're quitting – then stick it to the man!)


Good Posture – remember those days when your elders used to keep telling you to keep your back straight? Well we're not going to repeat it. Just know that good posture keeps your body functioning effectively.


Coccyx Cushion – these are life butt savors that take the pressure off from sitting all day. You can find them in cars, trucks, planes and offices around the world. Even our team members use them. Some doctors and PTs also recommend them to patients or pregnant women. The only thing you have to do is make sure you get a decent one or else you'll just be wasting money.
The Best Cushion For Tailbone Pain Relief
When it comes to buying your tailbone cushion it's all about form and function.
You shouldn't be trying to make a fashion statement. You should be focusing on relieving or preventing tailbone pain.
Now, there are probably tons of seat cushions in the world that you can buy.
However, our recommendation is based on what we found worked… after buying about $600 worth of cushions.
Yes, that's a lot of money for some seat cushions but that's how we roll. We don't waste time asking companies for freebies. If they want to do business with us, they know where we are.
Anyway, let's get to it…
As mentioned above, we went through a ton of foam before choosing one.
And the winner is…*drumroll*…
The Aylio Coccyx Orthopedic Comfort Foam seat cushion.
It wasn't easy. But ultimately we decided that it's the best orthopedic seat cushion for tailbone pain relief.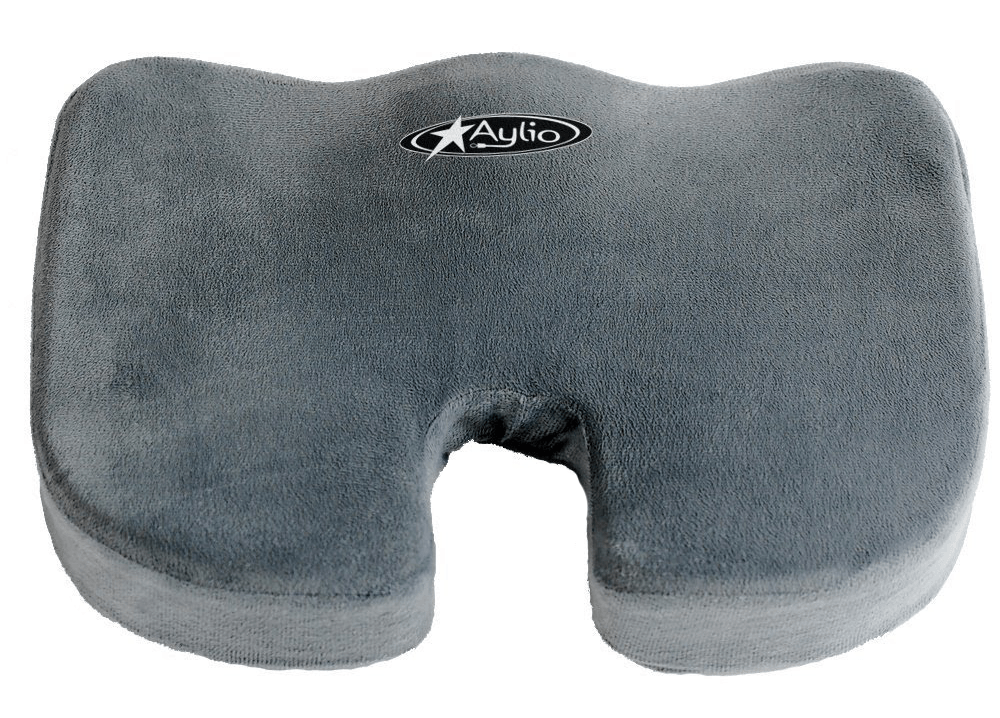 The first thing you'll notice about the Aylio Coccyx Orthopedic Comfort Foam seat cushion is the way the cover feels.
The texture is similar to that of velour and it actually feels like touching a kitten's fur.
Unlike most seat cushions, the foam in the Aylio orthopedic seat cushion is removable. The soft cover unzips so that you can remove the foam if you need to wash the cover.
In terms of design, you'll notice that the Aylio orthopedic seat cushion has a unique shape – especially in the area where your tailbone will go. There's a "U-shaped" cut out which helps to reduce the pressure on your tailbone when sitting.
You'll also see that there are subtle grooves on each side of the top surface where your thighs will be. This is to ensure that your hips remain in alignment, which helps your posture.
The grooves also help to balance out your weight on both sides when you're sitting at your desk for hours at a time.
The idea is that the design helps to minimize any overall pain or numbness, which is great for tailbone pain relief.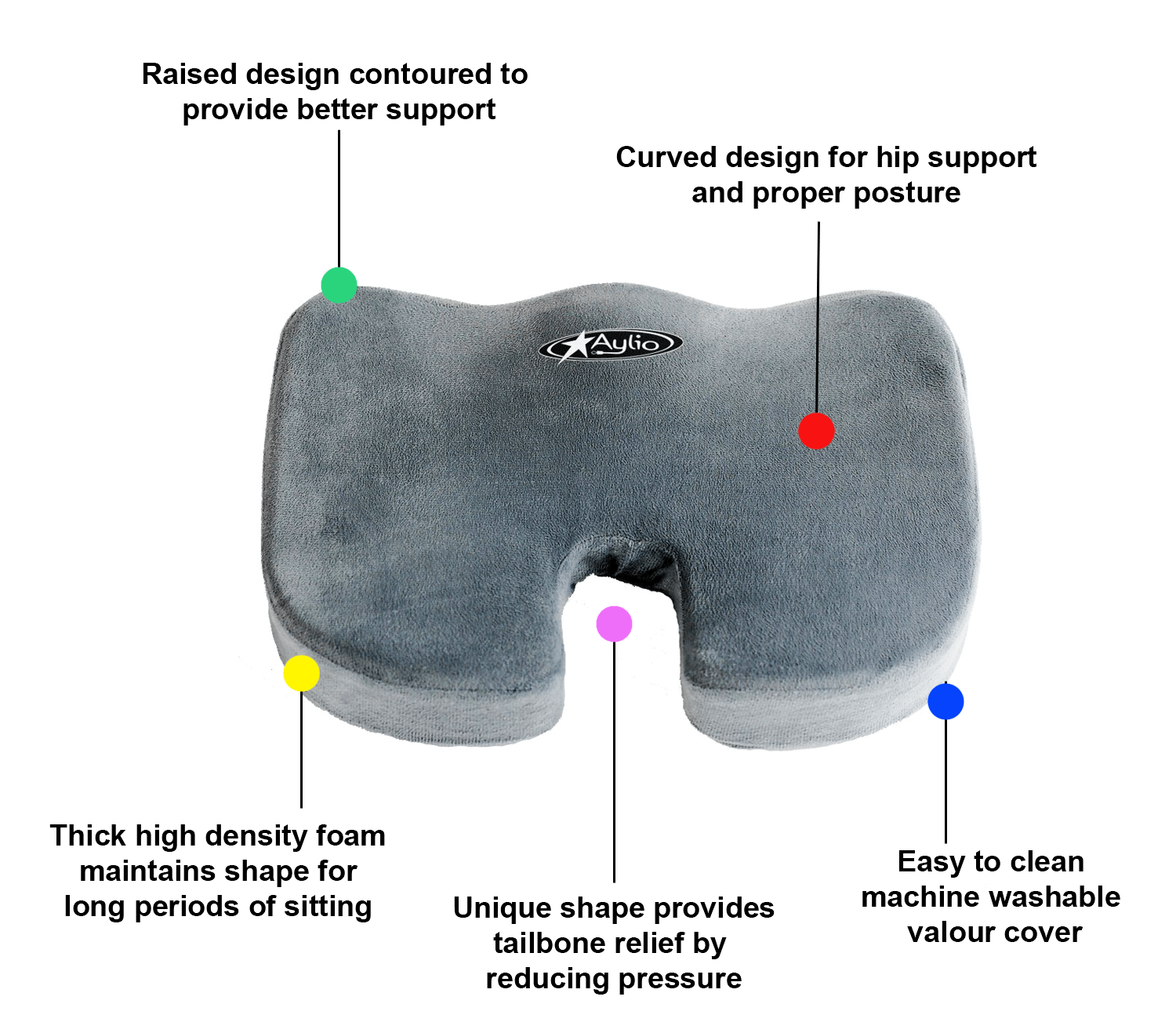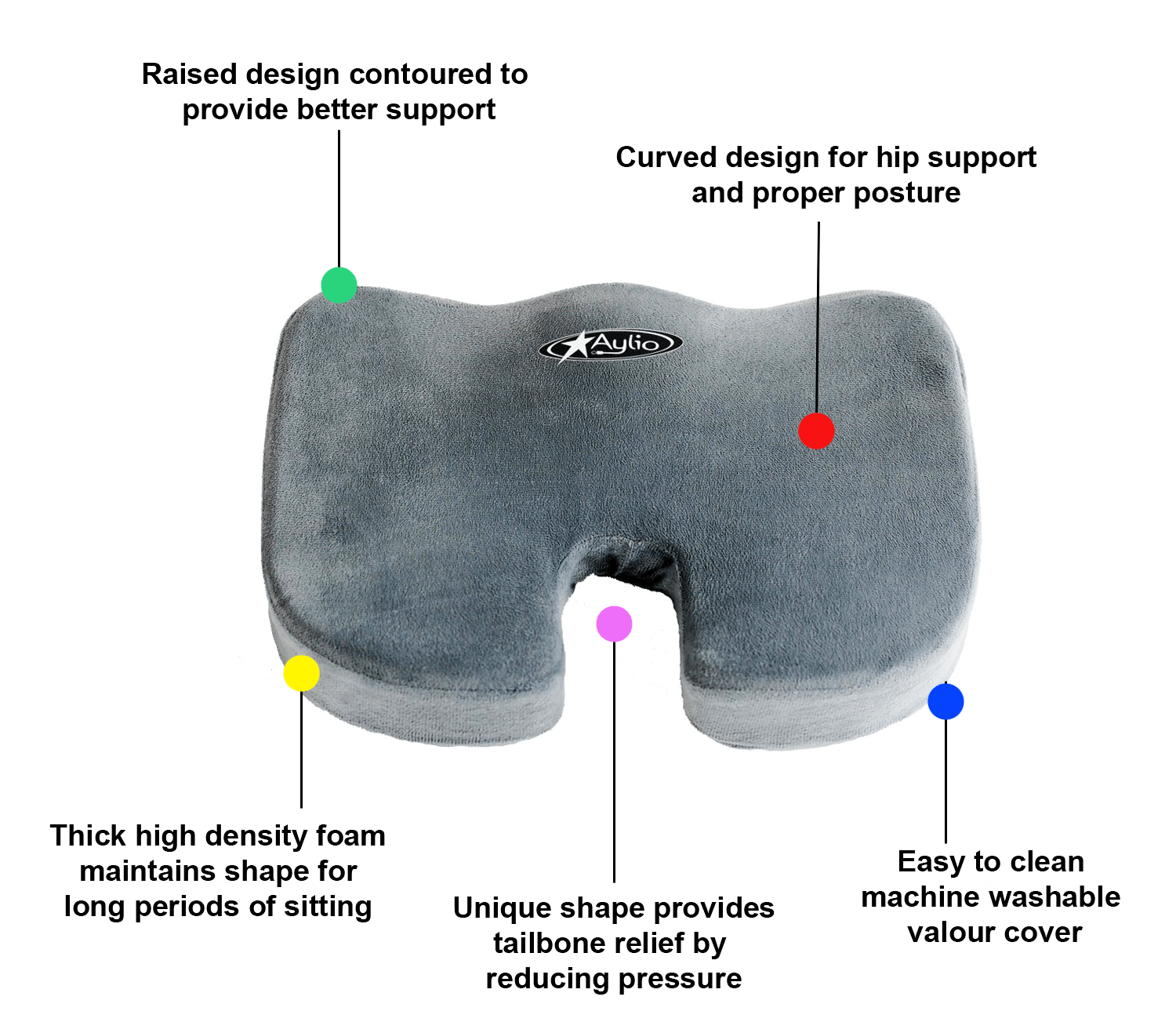 If you're the type of person that has lower back pain or spinal stenosis, this cushion should definitely help you.
We found that it keeps your body aligned without giving you that uneven tilt that some other cushions give you.
Using Your Aylio Coccyx Orthopedic Comfort Foam Seat Cushion
It may seem stupid to explain how to use an orthopedic seat cushion but it's not.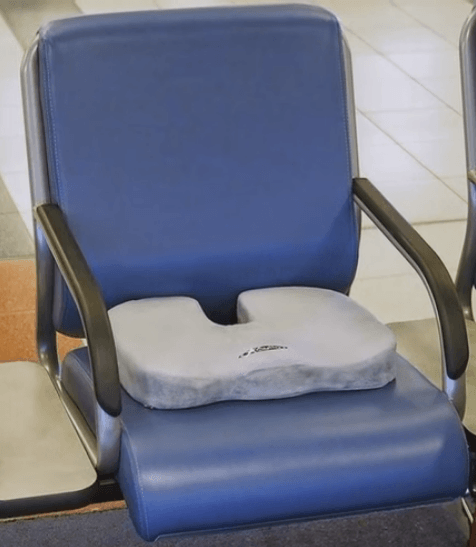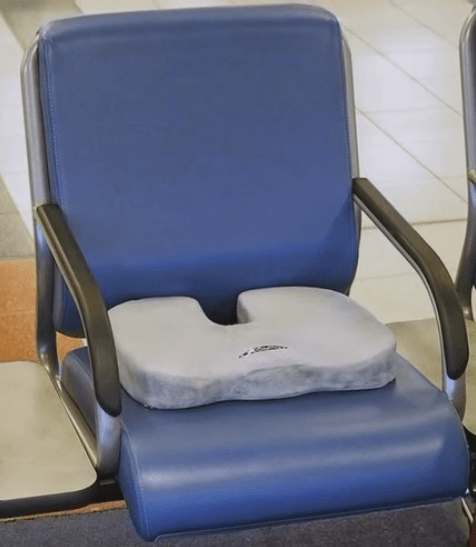 There are many people who might think that the U-shaped cut out is supposed to be facing forward. But that's not the correct way to position the cushion.
When you place it on a chair or car seat, the U-shape should be facing the back because that's where your coccyx will go.
Also, you want to be sure that the cushion is placed in the center of whatever surface you put it on.
The cushion itself adds about 3 inches of extra seating height. So you might want to make sure that you adjust your chair's height accordingly.
Ideally your knees and hips should be at about 90-degree angles while seated.
How Does The Aylio Coccyx Cushion Feel?
Once you sit on the Aylio orthopedic seat cushion, you'll notice that it places your body in an upright position.
In fact, if you usually slouch your back when seated, you'll actually feel weird doing it while using this coccyx orthopedic cushion.
Basically, you can't help but want to sit upright.
The cushion isn't extremely thick nor does it flatten out when you sit on it. It's a lot better and more comfortable than using the original donut cushions for sure.
Plus, if you have a tailbone injury, pressure sore, or any kind of pain "down there," the Aylio orthopedic seat cushion prevents you from aggravating it.
Is this the best cushion for tailbone pain relief you'll ever buy?
It would be naive to think so.
Somewhere a doctor or engineer is working on the next best thing and we have no idea what it is.
However, the Aylio Coccyx Orthopedic Comfort Foam seat cushion fulfills its purpose.
It's comfortable, relieves pressure where it's supposed to, and it feels like touching a cute kitty's fur.
Note: There are a lot of cheap imitations and different companies pirating the Aylio design. So when you go to buy your own, make sure you get yours from Aylio Wellness.
Finding an orthopedic seat cushion for tailbone pain shouldn't be rocket science.
We liked the Aylio coccyx cushion because it worked for us.
You may like it or you may find something else that works for you and that's okay. Consumers need choices.
But, until the next best thing comes around, our butts will be seated on the soft, comfortable surface of Aylio's Coccyx Orthopedic Comfort Foam seat cushion.
We think it's the best seat cushion for tailbone pain relief.
Overall, this orthopedic seat cushion is a go. And thousands of satisfied customers agree.